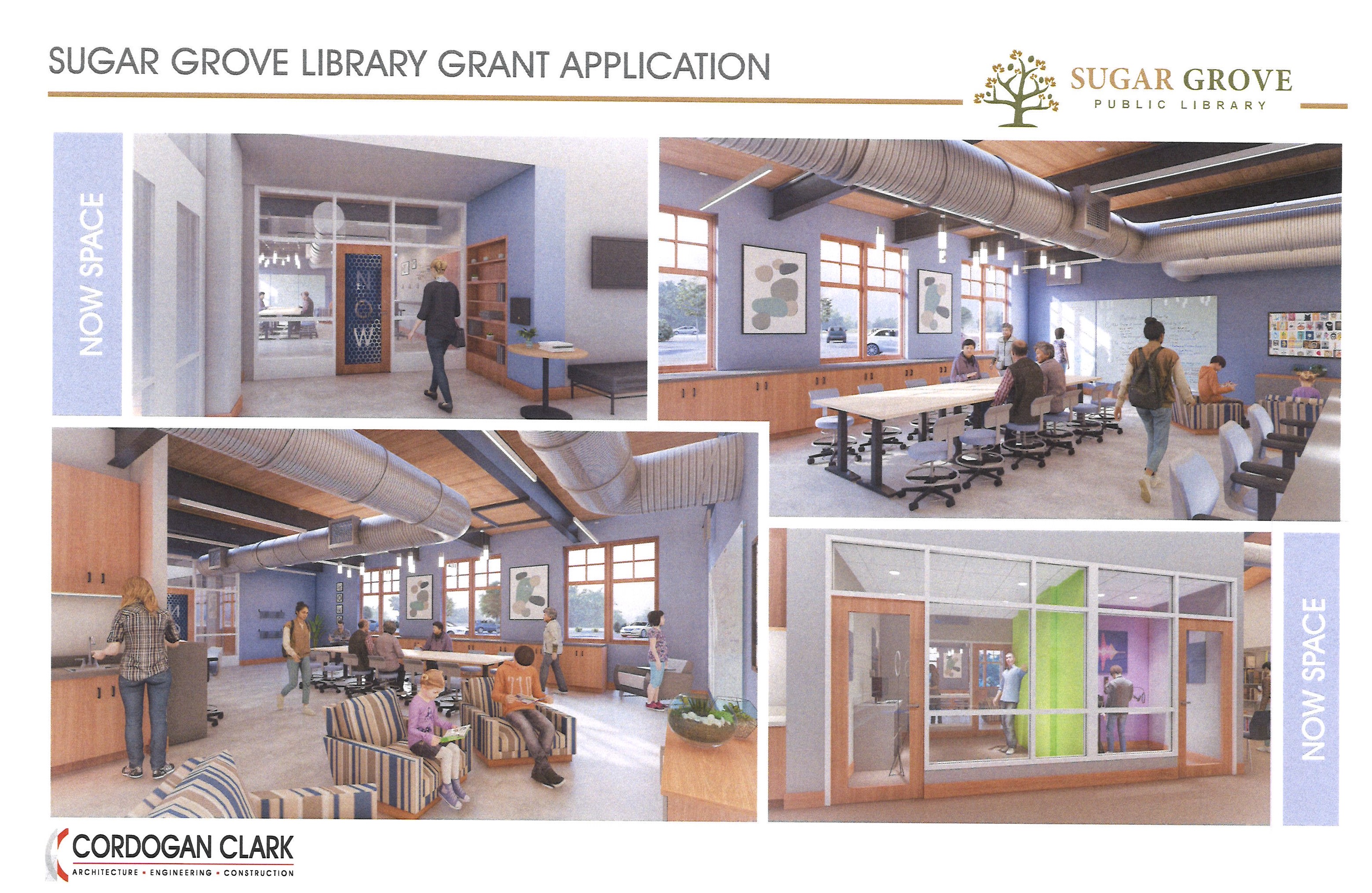 We are pleased to present a segment of our web presence to keep our public up to date on the light renovation of front areas of the Library.

 
Press Releases

11/3/21  Renovation Plan for Sugar Grove Library 

10/27/21: Live and Learn Construction Grant - Images of Now Space (click to view image rendering)

Completed: Bids

Bids for the project are being managed by Cordogan and Clark in order to ensure the project meets specifications for work performed, as well as legal requirements for bid acceptance and awards.  

You may view the Public Job information page from Cordogan and Clark HERE

You may view the publication notification posted HERE

Bid Award Information

The Board of Trustees voted on 11/17 to accept the recommendation from Cordogan and Clark to utilize the services of Lite Construction, Inc.  

The Bid Tabulation Sheet may be reviewed HERE. 

The Bidder Recommendation discussion document may be reviewed HERE. 

Bid Schedule

1) Thursday, November 4 at 10 a.m. - Pre-Bid meeting for interested parties on site at the Library.

A pre-bid meeting and walk through is available with Cordogan and Clark on site to see the facility and answer questions. 

2) If you are unable to attend the opportunity on 11/4, you may schedule a walk-through with the Library Director by calling the Library at (630) 466-4686 or emailing shannon@sgpl.org     Please note that the Library is closed on Fridays. 

3) Bid acceptance - Bids are accepted in a sealed and conspicuously marked envelope to Cordogan and Clark located at 960 Ridgeway Avenue, Third Floor, Aurora 60506. from 8:00 a.m. until 2:00 p.m. on November 12, 2021.  (See publication notice above for specifics)

4) The Library Board of Trustees will be evaluating bids at a decision making meeting on Wednesday, November 17th at 6:30 p.m.   This meeting is an Open Meeting and will be held on site at the Library at 125 S. Municipal Drive.   

5) The bid from Lite Construction from Montgomery, Illinois was selected.  You may review the bid tabulation sheet and recommendation discussion document under the bid award information section. 

Property Sale

The Library must sell or donate the existing equipment in the most efficient manner possible.    You may review the equipment available below, and see the bid sheet attached to each item in the previous Cafe Space.   If you are a local organization, non-profit or a Library and are interested in the equipment, please contact the Library Director

All equipment is 12 years old and in functioning shape.   It must be removed and transported without the Library's assistance. 

You can see the .pdf of equipment available DOWNLOAD HERE.    Update 1/18 - All equipment has been claimed.